The Film Lab(TM) is a 501(c)(3) not-for-profit organization devoted to the promotion and support of gender and ethnic parity in film and television programming. Through our education and outreach programming, we connect filmmakers of color, provide seminars, screenings, opportunities to workshop scripts, and more. We also run the famous 
72 Hour Shootout (TM), an annual, high-profile filmmaking competition organized with the support of ABC, NBC, CrossingsTV, Time Warner, Asian CineVision, the Asian American International Film Festival and many others,  through which we work to ensure that stories and voices too often silenced in mainstream media are heard, not just as whispers, but as shouts to the world.
To have a Film Lab workshop at your venue, please contact info@film-lab.org and click here for more details!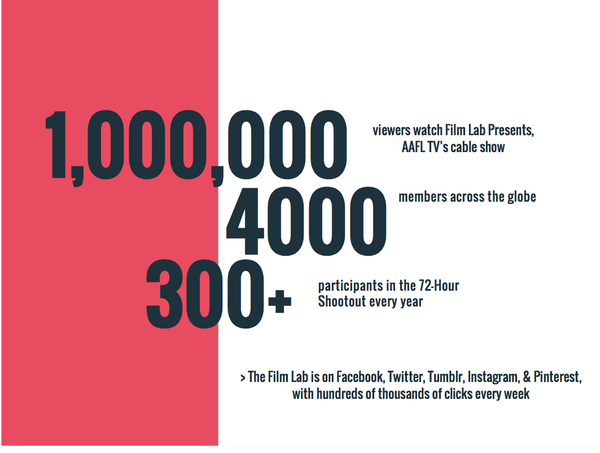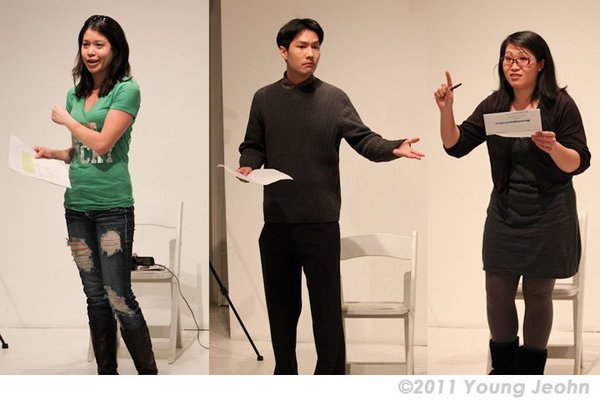 Past Event & Programs Include: 
April 6, 2020
5:30pm EST - VIRTUAL.  Linked will be emailed to participants
Backstage Casting 72 Hour Shootout Film Resources Workshop: NEW YORK
Backstage conducted an intensive workshop, led by Christine McKenna-Tirella, to teach filmmakers, step-by-step, how to utilize all the resources for free (a special code for free services from Backstage Magazine was given to attendees at the event and to those who registered for the 72 Hour Shootout filmmaking competition). In the 72 Hour Shootout, filmmaking teams are given a common theme at the start of the Shootout (usually 8pm EST, the first Thursday of June) and then have 72 hours to write, shoot, edit, and complete short films up to five minutes in length.  Virtual.  Link will be emailed to RSVP'd participants.  Watch the workshop here.
March 16, 2020
This Casting for Filmmakers workshop with WC Casting (Life of Pi) is the first of a series of workshops for filmmakers and actors competing - or thinking of competing - in the annual, global 72 Hour Shootout filmmaking competition. Register online March 1-June 4, 2020, at www.film-lab.org and stay tuned at Facebook.com/72HrShootout for more! Filmmakers compete for screen tests and mentorships with major network TV executives, festival screening, cash prizes and more.  Event details here.  Watch the livestream feed here!
February 11, 2020
Special Valentine's "Unfinished Works" Screenplay Reading & Workshop Featuring Award-Winning Filmmaker Myra Velasquez's THE FORKERS
6:00pm-8:00pm
More info here
357 W. 36 Street, NYC or via livestream to attend virtually on Twitter @AsAmFilmLab and AAFL TV
A romantic evening of laughs as professional actors read award-winning filmmaker Myra Velasquez's award-winning script "The Forkers," followed by a workshop of the piece with the writer, Myra, and wine and crudites.  Guests enjoyed a glass of vino and some great comedy in Film Lab's first event of the New Year! 
                                                                           December 2019
National televised exhibition of the 12th Season of Film Lab Presents
For showtimes by city, click here
Special MIRROR MIRROR Pilot Screening & Gender Bias Talkback
featuring panelists from the Geena Davis Institute on Gender in Media and more!
December 14, 2019
3pm EST
Press Release here
Wild Project Theater, 195 E. 3rd Street in New York City's East Village.
"Mirror Mirror" screening and talkback on gender bias as part of the The International Human Rights Art Festival (IHRAF.ORG), a week-long advocacy art event fusing art, society and the spirit.
Fall 2019 
Unfinished Works Screenplay Reading & Workshop Series Featuring New Women Writers
#UnfinishedWorks
October 8 and November 19, 2019
6:30-8:30pm EST
Film Lab is proud to sponsor a fall series of new screenplay readings and workshops!  Join us to hear professional actors read new scripts from some talented emerging authors on topics ranging from the immigrant experience to a sinister kidnapping.  The workshop portion of the event gives you - the audience member - the chance to directly impact the script and storyline. Network with writers and actors and be a part of the show.
More:   https://mailchi.mp/364d3e2bde46/unfinished-works-screenplay-reading-workshop-series-featuring-emerging-women-writers
Check out our October workshop here featuring a star from the movie "Hustlers"!
August 10, 2019
The Queens Museum, a special Presentation of the Festival of Cinema, at 1pm EST
A special screening of very funny entertainment by AAFL TV that addresses serious societal issues.  Followed by an industry panel moderated by CBS's Barbara Matos!  RSVP here and more info here.  Thanks to all who joined us at our SOLD OUT August screening of Race, Sex & Hold the Mayo
***
IMMIGRANTS:  WE ARE THEM. THEY ARE US.Live Interactive Theatre PerformancesFeb. 18-19, 2019The Tank312 W. 36 StreetNYC
#
ImmigrantsWeAreThemTheyAreUs
Join us for two incredible evenings of live interactive theatre addressing race and immigration in America today.  The shows will be followed by a talkback moderated by CBS's Livia Areas. Panelists will include Mae Lee, the Executive Director of the Chinese Progressive Association and Franck D. Joseph II from the New York City Commission on Human Rights, among others.
And more...
Event: The Wall: Immigration in the Time of 45 play, screening and puppet show
Date:  October 26 and 27, 2018
Location:  The Tank, Theatre 56, NYC
Invite:  https://www.facebook.com/events/2192077127734489/
***
May 14, 6:00-8pm
Directing Tips'n Tricks to Maximize Your Shootout Experience
25 W. 43 Street, NYC 10036 or FREE online 
Come join Director Toy Lei, a past 72 Hour Shootout Grand Prize winner and multi-Top Ten placer of the Shootout, along with award-winning Director and Shootout sponsor Sean Scanlin of Eyefull Media group.  Toy will talk about her experiences in making a 72 hour film and what she learned to do better every year to eventually win the Grand Prize. Pick her brain with any questions you may have about what to expect or how to improve your current process. And, if you win - how can you leverage your prizes?  If you don't win - how can you maximize your experience - because winning comes in different forms... This is a rare opportunity to get personal with Toy who normally lives in LA, and is here in NYC because she was accepted into an exclusive directing lab based on the 2015 72 Hour Shootout Grand Prize film BOXER!  Sean will delve into technical how to's and organizational techniques directors can utilize to make a winning film in a short timeframe.  
***
Event: Virtual Unfinished Works screenplay Workshop of Wild Mind, by FujioTorikai
Date:  October 24, 2018, 8-10PM
VIRTUAL JAPAN - U.S. Unfinished Works Screenplay Workshop of Wild Mind, by Fujio Torikai.  Live on Facebook.com/AAFLTV  Join Cheryl L. Davis and Georges Bridges with the first Japan-U.S. virtual Unfinished Works.  We will workshop a sci-fi tale exploring the ethics and uses (and abuses) of technology designed to assist individuals with disabilities.
***
November Film Lab Presents airings (Season 10)
The Film Lab's TV series #FilmLabPresents proudly premiered the TENTH Season in 2018 on Nov. 9, 16, 23, and 30, 2018:
l Sacramento(KBTV 8.1, Xfinity Ch.398): Friday 6:30pm
l Los Angeles (Charter Spectrum 1519): Friday 5:30 pm
l San Francisco (Xfinity Ch.238): Friday 5:30pm
l Seattle (Xfinity Ch.152): Friday 6:30pm
l Chicago (Xfinity Ch.691): Friday 3:30 pm
l Minneapolis/St Paul (Xfinity Ch. 175) : Saturday: 6:00 pm 
l New York (Time Warner Cable Ch. 1519): Saturday 8:30 pm
More at https://www.imdb.com/title/tt3591302/
#FilmLabPresents
FLP 1:  https://youtu.be/BUWRTRABDG8
FLP 2:  https://youtu.be/MT3T7e2zhqg
FLP 3:  https://youtu.be/jFDcL05dwcc
FLP 4:  https://youtu.be/yvejFeiS83w
***
Event: The Top Five of New York City Voiceover Seminar with Hugh P. Klitzke
Date:  October 10, 2018
Links: 
Invite:  https://www.eventbrite.com/e/the-top-five-of-new-york-city-voiceover-with-hugh-p-klitzke-tickets-49756090807
Livestream:  https://twitter.com/asamfilmlab/status/1050146670502006785
Other details:  In this lecture and Q&A voice casting director Hugh P. Klitzke will talk about these five types of voiceover, discuss their differences and similarities, play audio of each, provide script examples, talk about diversity in casting and even talk about the money.
***
Event: Backstage Magazine Workshop for Filmmakers and Actors
Date:  Wednesday, September 26, 2018, 6pm
Links:
Invite:  https://www.eventbrite.com/e/backstage-magazine-and-film-lab-workshop-for-filmmakers-and-actors-tickets-49572036295#
Photo Album:  click here
Livestream:  https://twitter.com/asamfilmlab/status/1045075252697419777 and https://youtu.be/n5Nb2pQyAyA
Other details:  Learn how to cast your project or how to build up your Backstage profile as an actor with casting editors from Backstage, the most trusted name in casting.  Backstage staff, including former professional casting directors, will walk you through how to build a breakdown on Backstage, run auditions in person or electronically, communicate with actors, and put together the best cast possible.  For actors, learn how to format your Backstage profile, add media, navigate the site, and book the job!
***
Event:  72 Hour Shootout Premiere and Wrap Party
Date:  July 28, 2018
Location:  Village East Cinema and 12 W. 18 Street, NYC
Links: 
Invite:  https://www.eventbrite.com/e/72-hour-shootout-premiere-awards-ceremony-wrap-party-tickets-45990344358?aff=ehomecard
Photo Album:  https://www.facebook.com/pg/72hrshootout/photos/?tab=album&album_id=1754979691204367
Livestream:  Facebook.com/72HrShootout
Other details:
Press Release:  https://www.prlog.org/12720975-top-ten-72-hour-shootout-films-premiere.html
***
Event:  72 Hour Shootout Launch Party
Date:  June 7, 2018
Links: 
Invite:  https://www.eventbrite.com/e/the-72-hour-shootout-launch-party-tickets-45989759609
Photo Album:  https://www.facebook.com/pg/72hrshootout/photos/?tab=album&album_id=1680768971958773
Livestream:  https://www.pscp.tv/w/1ynKOAMAZOEJR and, with speeches only, https://www.pscp.tv/asamfilmlab/1ynKOAMAZOEJR?t=4m42s
YouTube Link to musical opening and opening remarks:  https://youtu.be/Q9dH5VRGHbQ
EIBBB Blog Post:  http://jenniferbetityen.weebly.com/ethical-is-beautiful-be-beautiful-a-blog/a-multi-sum-game
Press Release:  https://www.prlog.org/12712571-the-theme-of-the-14th-72-hour-shootout-is-no-more.html
***
Event:  72 Hour Shootout How-To Workshop:  Writing Featuring Cheryl L. Davis
Date:  May 24, 2018
Links: 
Invite:  https://www.eventbrite.com/e/film-lab-how-to-workshop-writing-featuring-cheryl-davis-tickets-45217633158
***
Event:  72 Hour Shootout How-To Workshop:  Editing Featuring Master Editor Doug Forbes
Date:  April 25, 2018
Links: 
Invite:  https://www.eventbrite.com/e/film-lab-how-to-workshop-film-editing-featuring-doug-forbes-tickets-44612988650
Photo Album:  https://www.facebook.com/pg/72hrshootout/photos/?tab=album&album_id=1641334165902
Livestream:  https://www.facebook.com/72hrshootout/videos/1639761479392856/
***
Event:  Private Premiere Screening of MIRROR MIRROR with Q&A and Talkback about Gender Bias and Harassment at CBS 
Date:  Thursday, March 29, 2018
Links:  Media Clip courtesy of Tina Duong:  https://youtu.be/wwPRRF8Zmrs
Invite:  https://www.eventbrite.com/e/private-premiere-screening-of-mirror-mirror-tickets-43143623740
Photo Album:  https://www.facebook.com/pg/AsAmFilmLab/photos/?tab=album&album_id=10155994301110169
IMDb:  http://www.imdb.com/title/tt7471912/
Blog Post:  http://jenniferbetityen.weebly.com/ethical-is-beautiful-be-beautiful-a-blog/metoo-part-ii
Other details:  #MirrorMirror #CBS #PilotSeason
***
Event:  Time Warner Shootout Awards Screening 
Date: September 13, 2017
Location:  One Time Warner Center
Links: 
Invite:  https://www.eventbrite.com/e/time-warner-film-lab-72-hour-shootout-awards-screening-tickets-33944316364
***